Feb 15, 2012 with Comments 0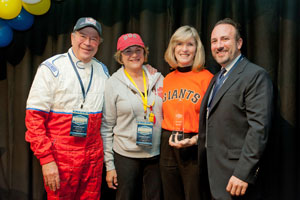 Agents, Staff and Guests Reflect on 2011 and Look Ahead to 2012
Over 300 agents, staff and special guests gathered at the Embassy Suites Hotel in San Rafael on Friday, January 27, to congratulate the 2011 top producers and special award-winners, experience an enthusiastic keynote speaker and witness other significant company announcements at Frank Howard Allen's annual Kick Off and Awards Ceremony. The theme of the event was It's A Whole New Game, underscoring how technology, new media, and the turn in the economy have changed the game for everyone in real estate.
"2011 marked another volatile year in real estate," said Noreen Smith, President and COO of Frank Howard Allen during her opening address. "But it also marked a year in which our company grew and opened offices instead of closing doors, and a year in which we maintained our market share leadership, once again."
"And while 2012 looks to bring more of the same in terms of the economy, with our state-of-the-art tools and exceptional marketing, our agents are well positioned to continue this positive momentum," Smith continued.
During the ceremony, numerous agents were honored for their exceptional 2011 achievements.
Top Producers: Daniel Casabonne and Patricia Oxman
The top honors went to Daniel Casabonne (Sonoma Plaza Office) and Patricia Oxman (Greenbrae Office) for their tremendous contributions made to the collective success of the organization. Casabonne earned the award for Top Producer for Units Closed. For Dollar Volume, both Casabonne and Oxman were honored for this outstanding achievement.
Daniel Casabonne has long been recognized as one of both Sonoma Valley and Sonoma County's Top Producing agents. In 2011, in addition to his tremendous success closing real estate transactions, Casabonne was instrumental in helping Frank Howard Allen recruit agents to their newly opened Sonoma offices and in securing the Sonoma Plaza office location.
Patricia Oxman launched her career at Frank Howard Allen by earning recognition as Rookie of the Year in 1989. Since then she has built a very successful business, ranking consistently in the top 1% of agents in Marin County. Oxman serves as a mentor to other agents and regularly participates in Frank Howard Allen's Agent Training Program as an instructor in great demand.
'Top 10' Producers for Dollar Volume and Units Closed
The 'Top Ten' at Frank Howard Allen represents those who achieved the highest level of production company-wide for both Units Closed and/or Dollar Volume. Those honored with this designation were: Tom Benoit, Daniel Casabonne, George De Salvo, Lisa Dunlap, Doug Hecker, Chelsea E. Ialeggio, Bill Johnson, Elizabeth Kilgore, Patricia Oxman, Bill Smith, Cheri Stanley, Abby Tanem, and Ken Wong. In addition, the following teams were recognized: Alva Falla & Associates, The Duran Group, Doug Del Fava & Susan Parker, Peter & Karin Narodny, and Bob & Pat Ravasio.
Office of the Year: Mill Valley
The Mill Valley office achieved a significant feat in 2011, an arguably tough year for the economy and real estate in particular: a 15% increase in sales volume over 2010, an increase of 40% in units closed and an increase of 19% in dollar volume. The Mill Valley office is managed by Andy Gellepis, who accepted the award on behalf of his agents.
Founders' Award: Toni Shroyer
The Founders' Award is presented annually to the person who most embodies the enthusiasm, teamwork, community spirit and success as envisioned by the founders of Frank Howard Allen and is presented by present owners Larry and Brennie Brackett. This year's recipient, Toni Shroyer, is as passionate about serving her Novato community as she is about her real estate career. Community endeavors include helping to raise funds for another K-9 for the Novato Police Department, spending vacation time to paint over unsightly graffiti with her family, volunteering weekly in Novato public schools, being a "Business Ambassador" fundraiser for School Fuel, which helps provide electives in schools that are in a low wealth district, volunteering for the Novato Junior Horseman's, and serving as a board member of the Novato Community Alliance.
Other company awards were presented in several categories, including Hall of Fame inductions for Doug Hecker and Bill Smith, the Chairman's Circle of Excellence and the President's Award of Distinction. After the awards ceremony, guests were treated to an inspiring presentation by Jared James, best-selling author and past recipient of REALTOR magazine's award as #1 Realtor in the USA under the age of 30. James spoke to the audience on how to remain relevant and increase their income in today's marketplace.
In keeping with the theme, the event space was filled with sports paraphernalia, including soccer balls, footballs, tennis balls and basket balls. True to the spirit of Frank Howard Allen, those items will be donated to local schools.
About Frank Howard Allen

Locally owned and operated, Frank Howard Allen Realtors is the only North Bay brokerage that can offer its clients the value of a century of experience with the convenience of comprehensive, state-of-the-art services. As members of Leading Real Estate Companies of the World and Luxury Portfolio International, the largest global network of premier locally branded companies, Frank Howard Allen is able to offer home buyers and sellers the resources of a national firm and the strength and value of a local market share leader. With more than 20 offices and over 300 agents in Marin, Sonoma, and Napa Counties, Frank Howard Allen prides itself on providing extraordinary personalized care and its commitment to giving back to the communities it serves. Learn more online: www.fhallen.com.
Filed Under: Members on the Move