ARCHIVE OF PROGRAMS PRESENTED BY LUXESF IN 2023
2023 – Is The Glass Half Full or Half Empty?
Thursday, January 26th | 10.00 – 11.00 AM Pacific
BACK BY POPULAR DEMAND FOR THE 3RD YEAR
A Conversation with Jose Rasco – America's Dean of Economic Forecasting
Washington D.C. is in disarray. The Fed continues to threaten with additional rate increases as it attempts to throttle inflation. Global conflicts and saber- rattling infect the nation's mood. And the Bay Area confronts its own unique confluence of economic, environmental and social challenges – from tech industry lay-offs to a vacant downtown San Francisco. Not to mention the unhinged mind-droppings of the billionaire class. With those comforting thoughts in mind, our thoughts turn to 2023.
To help provide clarity, understanding and a much-needed roadmap for business success for the coming year, LuxeSF is delighted to have back the Nostradamus of economic theory and prediction, Jose Rasco, Managing Director, Head of Investment Strategy at HSBC Private Bank Americas. An acknowledged favorite of LuxeSF members, Mr. Rasco speaks with believable authority on all matters relating to the economy and its predicted direction, and in an articulate and common man style that simplifies the complex and brings understanding and comprehension to a subject that most economists cloud with jargon, confusion and indecision.
If you want to know how the economy and your business performance will shape up in 2023, this program is mandatory viewing.
Asian Real Estate Dollars Are Returning to the U.S. Are You Prepared?
Thursday, February 23rd | 10.00 – 11.00 AM Pacific
LuxeSF has assembled a panel of front-line experts who can deliver unique insights about international real estate buyers and investors — who are they? Where are they coming from? How, where, what and why are they buying? What's precipitating this current trend? So, why this important presentation?
If history has taught us anything about the real estate industry, it's the fact that the marketplace remains in constant flux, ebbing and flowing with the consistency of teenage whim.
Add to that, rising geopolitical trends that deliver a daily dose of discord and opportunity. As the old saying goes, "When America Sneezes, the World Catches Cold". Today, one can easily apply the same dictum to Asia — China, in particular. There, a combination of recent COVID liberation, the need to maintain vigorous GDP growth and reinvigorate manufacturing trade now that supply chain bottlenecks have eased, all coupled with an aggressive political posture that engenders world-wide confusion, is delivering an outflow in investment dollars, many of which will land in U.S. real estate markets.
Already, anecdotal evidence indicates that the Bay Area is beginning to feel a groundswell in real estate investment from Asia and the Pacific rim. Buyer motivations may vary, but the result is still the same — opportunity to capture important Asian investment dollars that in recent years remained absent. At a time when a sense of mystery prevails about the real estate market in 2023, an opportunity like this cannot be ignored.
FEATURING:
Need a Professional Head Shot?Get One Now. It's FREE!
Offered in Mountain View & Seaside March 9th & 30th
If, like many of us, you're still using an outdated head shot from the days when the hair was luxuriant and wrinkles non-existent, it may be time for an update. We know there are a million reasons why you haven't got around to it—no time; can't find the right photographer who can capture your essential beauty and unique personality; fear of reflection that comes with the aging process, etc. We've heard them all before!
But now is the time for redemption. LuxeSF, in partnership with Ferguson, is providing an opportunity to get an updated head shot taken by an award-winning commercial photographer. And there's no charge. We just want you to look your best.
We'll be serving beverages and lunch options to get you in the mood where the true you shines through for the camera.
How to Become a Connoisseur – "Travel"
The sixth program in a 6-part series
Thursday, March 16th | 10.00 – 11.00 AM
LuxeSF continues with the final program in its series entitled — "How to Become a Connoisseur: A Core Curriculum" featuring penetrating discussions with industry luminaries in Jewelry & Timepieces, Style & Design, the Home, Art, Food & Wine and Travel.

This series deconstructs the concept of connoisseurship and equips luxury marketers with a fundamental understanding of connoisseurship and how to convey its meaning and importance to clients and customers.
FEATURING:
We converse with Captain Sean P Meagher. Sean has commanded some of the world's finest yachts and has been awarded numerous honors for exploration, design, and outstanding customer service. His voyages through the Northwest Passage and the Arctic have been the subject of articles, books and short films.
Sean is an avid conservationist and has spoken internationally on the topic of plastics in our Oceans. The Captain is a member of the New York Explorers Club, The Yacht Club de Monaco and The Saint Francis Yacht Club.
Captain Meagher also served as Relief Captain for Season 9 of Bravo's very popular series, "Below Deck".
Lust For The Deal – Nabbing Lush Opportunities in the San Francisco Condo Market
Thursday, April 13th |10.00 – 11.00 AM
As with all buying and investment opportunities, it's always about the timing. And never has that dictum been more relevant and timelier than now, as the San Francisco condominium market, notorious for its unpredictability, unleashes exceptional deal possibilities driven by market factors that have resulted in a "perfect storm" that benefits the astute buyer.
To better understand what's happening in the marketplace and to learn how to identify, unearth, negotiate and exploit this opportunity, LuxeSF has assembled a panel of experts who know and live the luxury condo market – an insider group of industry Sherpas that will guide us through the process without the risk that attaches itself to the uneducated buyer.
FEATURING: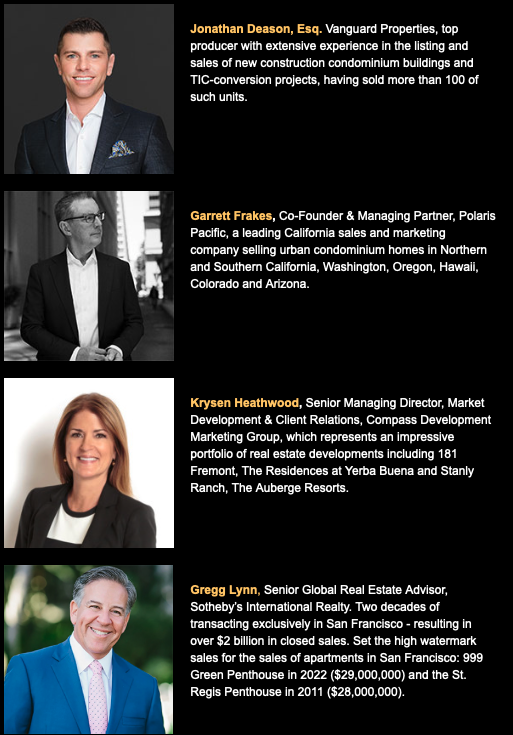 Meet The Rising Stars of Bay Area Real Estate
Thursday, June 1st, 11.00 AM – 12.00 PM
A perennial LuxeSF favorite, now in its 8th year, we introduce a panel of the Bay Area's up-and-coming real estate stars about their motivation, inspiration, aspiration and determination, and how they're making it to the top. The panel represents the rising rookies – agents with fewer than 3 years in the business who, are setting records and creating a reputation for themselves within the industry. These are the ones to watch.
The Gurus: David Friedman on the Impact of AI on Luxury
Thursday, June 8th | 10.00 – 11:00 AM
LuxeSF introduces "The Gurus" a series of programs featuring experts sharing on subjects of interest and concern to marketers who seek to remain up-to-date on the current trends and practices that affect their industries.
The series kicks off with an in-depth discussion of AI (artificial intelligence) which explores the implications for generative AI in creating and scaling bespoke content for engaging the HNW (high-net-worth) and UHNW (ultra-high-net-worth) consumer, as it applies across the luxury, financial services and non-profit landscapes.