Craig Bridge
Head of Advocacy
Whyte & Mackay, Americas

Craig Bridger is veteran whisky ambassador and educator. He has visited distilleries all over the world and worked for some of the most iconic among them. A tenured bartender in New York City, he first channeled his interest in whisky into a successful freelance writing career, covering fine spirits for many print and online publications. Now the Head of Advocacy for Whyte & Mackay in North America, Craig works closely with The Dalmore and Jura whisky-making teams, including legendary Master Distiller Richard Paterson. In addition, Craig oversees the company's team of Single Malt Specialists across the country. This year, he was inducted into The Keepers of the Quaich, an honorary Scottish society recognizing those who've shown outstanding commitment to the whisky industry. Craig lives in Los Angeles with his wife, a dog, a sassy cat, and loads of single malt.
LuxeSF talks with this irrepressible and charismatic ex-Brooklynite who appears equally comfortable in a Scottish kilt as a bespoke suit or barman's attire.
On the History of The Dalmore
The legend of The Dalmore dates back to 1263, when Colin of Kintail, Chief of the clan Mackenzie, saved King Alexander III of Scotland from a charging stag. As a reward, the grateful King granted Colin of Kintail the right to use the 12-pointed Royal Stag as the Mackenzie clan crest. The Dalmore distillery itself, located in Alness (20 miles north of Inverness) first opened its doors in 1839 under the ownership of entrepreneur Alexander Matheson, who after 28 years decided it was time to pass the distillery onto new owners — Andrew and Charles Mackenzie.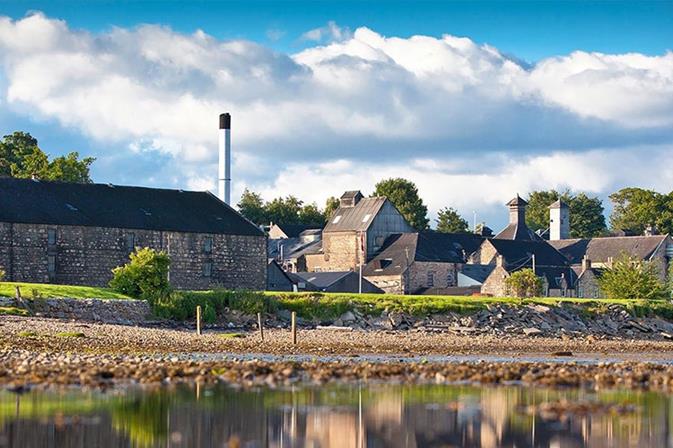 As members of the clan Mackenzie, they brought with them the iconic 12-pointed Royal Stag emblem, the caberfeidh, which has adorned every bottle of The Dalmore. The distillery remained family-owned until 1960 when it was acquired by Whyte & Mackay.
On the Process of Making The Dalmore
The special water used in The Dalmore is taken from the river Averon, which flows from the nearby Loch Morie, located deep in the heart of the Northern Highlands. Hence, The Dalmore qualifies as an authentic Highland malt. Although Dalmore's distilling process has stayed true to a centuries-old heritage with respect to selection and use of water – barley grain (the single source grain in single malt whisky) and a unique still design and distillation process, it's the maturation process that distinguishes it from other single malt whiskies.
Every Dalmore whisky is matured in at least two different types of oak casks: American white oak bourbon casks, and aged sherry casks from renowned sherry producer Gonzalez Byass. These rare casks, which have previously held 30-year-old Matusalem oloroso sherry, are exclusive to The Dalmore, and enrich the signature chocolate and orange character of all Dalmore whiskies with distinctive rich and nutty flavors.
On The Dalmore's Family of Fine Single Malt Whiskies
For many years, Dalmore's presence in the world of single malt was restricted to a 12-year-old expression. In recent times, however, the range has expanded dramatically, with a U.S. portfolio that includes The Dalmore 12 (flagship of The Dalmore line that captures its chocolate-orange essence — $65), Sherry Cask Select (an innovative, new whisky using twice the sherry cask influence of the original — $79), Port Wood Reserve (showcasing casks first used to make a 10-year tawny Graham's port, rich and sweet, higher in alcohol — $99), The Dalmore 15 ( soft, sultry, matured in Matusalem and Apostles sherry casks exclusive to The Dalmore, a velvety whisky with lots of sherry nuttiness, everyone's favorite – $140), Cigar Malt Reserve (a whisky created to provide the ideal partner for a fine cigar, but a unique dram to try whether you're smoking or not — $160), The Dalmore 18 (a quintessential steakhouse whisky, making use of the Matusalem 30-year-old sherry casks for a four-year finish – $250), King Alexander III (first single malt scotch whisky in the world to use six different types of casks in the finishing process, finessed in sherry, port, madeira, marsala, cabernet sauvignon and bourbon casks — $300), and The Dalmore 25 a (quarter-century in the making, a stunning whisky and a love story between bourbon barrels, 30-year-old sherry casks and 20-year-old tawny port pipes from Grahams – dessert in a glass — $1,500).
We're about to launch our first-ever U.S. exclusive for The Dalmore that will be available nationally in the U.S. in the Fall of 2022 — a new 14-year-old expression of The Dalmore, finished in Pedro Ximenez sherry casks. It's rich, has sweet sherry notes and sits on the tongue in a subtle fashion…and on the shelf for less than $100.
On the Competitive Set
From the perspective of style and flavor profile, Balvenie, GlenDronach and Arberlour are, in my opinion, the closest match to The Dalmore. All three are quintessential Speyside malts – beautiful drams from the Speyside Valley along the river where they make honeyed whiskies that (in the case of these three) all use sherry casks. But when you talk about the way that the brand is positioned, the status that it demands, and how its perceived in the single malt marketplace, there's only one name, of course, Macallan. If you're a drinker or collector of Macallan, you need to discover The Dalmore, which is perhaps a little more subtle in comparison to Macallan's famous muscularity and equally coveted in terms of brand prestige and the hunt for collecting rare bottles.
On the DNA of The Single Malt Whisky Enthusiast
To begin with, they have tremendous taste (palate-wise). It's a community of passionate extroverts who have found commonality in their love and exploration of the apotheosis of alcoholic beverages. Even though you can say the same thing about wine aficionados and enthusiasts, there is something a little less fussy about whisky devotion, less pretentious and more egalitarian about the enjoyment of drinking it. Also, let's not forget that if you do splurge on that bottle of 18- or 25-year-old, when you crack it, you're not obligated to finish that bottle in one sitting. There's a unique opportunity to investigate and purchase that special bottle and share it with friends and family over time, as opposed to cracking and consuming that really expensive bottle of Bordeaux in one sitting.
The profile of those who enjoy or collect single malt whisky is a male in his 40s, although age is starting to track younger. For example, the gentleman who bought the Paterson Collection for £987,500 Sterling is in his 20s. However, typically, it's someone in his 40s, with a healthy amount of disposable income, who considers whisky much like the watch on his wrist or the fourth or fifth car in the garage – as an investment, but also as one of the great pleasures in life to be savored and enjoyed. They tend to be extremely knowledgeable about their passions. I might know more about the whisky, but that collector is going to know more than I do about the return on investment on that rare bottle of whisky he purchased — how it's appreciating in value on the secondary market, and how many bottles are still in stock on retailer shelves globally. We have seen stratospheric growth across the whisky spectrum, driven in recent years by the explosive growth in bourbon and Japanese whisky. But single malts have continued to grow from strength to strength. The Dalmore is now the fastest-growing single malt scotch whisky by value in the United States. We've been on a tear.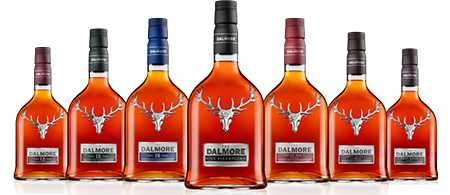 On Single Malt Whisky as a Collectible
Prices at the high end regularly top five figures. In 2005, a bottle of 62-year-old Dalmore, a mix of five casks, from 1868, 1878, 1922, 1926 and 1939, of which only 12 bottles were produced, was sold for $40,000. In 2010, the distillery completed production of Dalmore Trinitas, so called because only three bottles were produced. The first two bottles sold for $123,000 each. The final bottle was sold by Harrods in London for $148,000. In 2013, The Dalmore created the Paterson Collection, in homage to its Master Distiller Richard Paterson. The 12-bottle collection went on sale at Harrods for £987,500 Sterling.
The Dalmore is spoiled to have some of the oldest and rarest stocks of whisky in the industry, and we exhausted some of those very oldest and rarest last year in the effort to produce an exquisite six-bottle set called the Dalmore Decades that took people on a time machine ride back through the decades from the 2000s to the early 1950s — each bottle representing one of those decades. Those six bottles fetched a record price at Sotheby's auction in Hong Kong when the gavel fell for $1.2 million, setting a record for the highest whisky ever sold at Sotheby's in Asia, and setting a record for all of Sotheby's for 2021.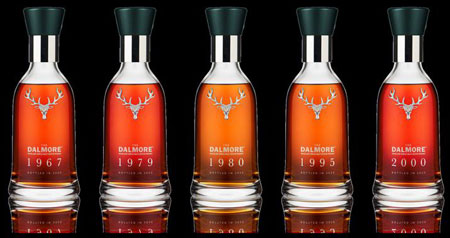 There is a lot to "fall in love with" in the world of scotch whisky. There is so much history and so much depth. It's such a profound beverage category – so many whiskies and so many delicious styles and tastes. Now, there are collectors who drink their whiskies and those who display them as trophies, and those who buy two of everything, so they have one to drink and one to stash away. We've never seen more excitement around the collecting of fine single malt than we're witnessing right now.
On What Pairs Well with Single Malt Whisky
When I think of pairing with any beverage, I find it helpful to think about the traditional cuisine of the culture that produces that beverage. With respect to The Dalmore, because it's so linked to the flavors that are derived from the sherry casks, I quite like to think of the traditional cuisine of Andalusia in southern Spain. So, I'm going to consider the great Spanish hams — Jamon Iberico and Bellota, from pigs that that are babied and only fed acorns. I'm going to think about Manchego cheese, Marcona almonds and Spanish olives. By extension, any platter of charcuterie — fine meat and cheeses, will work perfectly at home. I also find most of our whiskies, especially the older ones, richer in flavor, are fantastic after dinner with desserts, such as a crème brulee or a dark chocolate. We have a partnership with Vosges, an artisanal chocolatier that produces a delightful chocolate truffle that incorporates Dalmore whisky. That chocolate-orange flavor in Dalmore whiskies pairs beautifully with desserts and with chocolate.
On Fond Dalmore Memories
I had the tremendous honor to be inducted into the Keepers-of-the-Quaich, an honorary society in Scotland that celebrates people who have made significant contributions to the growth and advocacy of scotch whisky around the world. I was nominated for induction by Richard Paterson, the master whisky maker for The Dalmore. I was accompanied by him at the ceremony at Blair Castle in the Highlands with the Atholl Highlanders, a private army, in full regalia to guard the ceremonies. It was an incredible evening where I was recognized by my peers. My mom said nothing good would ever come from drinking scotch. I'm delighted to have proved her wrong.
When Dalmore sponsored the Critic's Choice Awards and I was given the opportunity to send a bottle and a hand-written note to all of the winners, I suddenly found myself sitting down with my pen and Dalmore stationery and writing, "Dear Gaga" or "Dear Miss Gaga" or "Dear Lady Gaga" – and experiencing a surreal moment in the process. She had, of course, won a Critic's Choice Award for her tremendous star turn in "A Star is Born," and I was sending her a bottle of Dalmore and my congratulations. It was at that moment I realized, "I'm writing a note to Lady Gaga and I don't know how I should address it!"