Survivor stories from The Great Wine Fires of 2017 as told to The Luxury Marketing Council of San Francisco
Brenda Burke

Manager of Community Outreach & Strategic Partnerships
Jameson Animal Rescue Ranch (JARR)

The loss
I lived in a rental home at 1135 Mt. George Avenue in Napa. The loss was total. Worse still, I was not insured. Everything I possessed was lost, with the exception of my laptop, phone, purse, the clothes on my back—and my most precious possession—my dog Hanzel I didn't take more because we never received a mandatory evacuation order, just an advisory, and I honestly thought I'd be able to return unscathed. I'm currently staying with my mother while I look for a replacement rental, but the difficulty is in finding a landlord who will accept animals.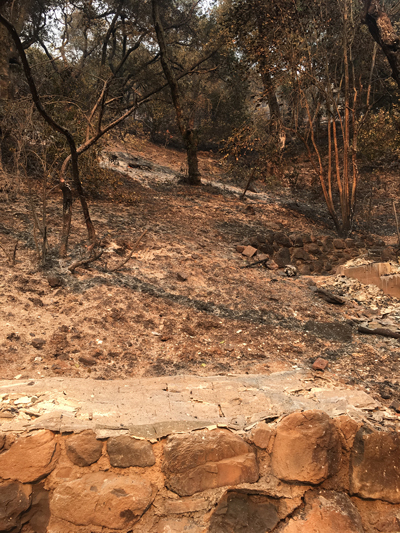 How did it happen
Sunday 8th, around 10.00 PM, I received a text message from a friend in Tahoe asking if I was affected by the fires. What fires? A quick check with Nixle (online community warning service) did not indicate any danger. At 11.00 PM, the homeowner called and advised getting out. I was initially surprised, but after seeing a glow coming over the hillside, I knew it was time to leave. After warning my neighbors, I left around 11.30 and headed to a staging area on Hagen Road where we watched the flames approaching, heard propane tanks exploding and carefully monitored the changing wind direction. At approximately 1.45 AM, I headed to my mothers, thinking that the house would still be fine. When I drove over at 6.00 AM, the front door was on fire and the surrounding heat was so intense that I had to get out. When I returned at 3.00 PM, it had burned to the ground.
Current status
Friends have donated clothes and gift cards, and a GoFundMe drive has raised funds that will help get me back on my feet. I started sifting through the ashes but all I could find were some collectible coins that my father gave me. I had to leave after 20 minutes. The experience of seeing everything destroyed was too emotional. Luckily, I've had my work at JARR to keep my mind off the loss. We've been on round-the-clock duty rescuing hundreds of dogs, cats, sheep, goats, horses, cows, etc. And we set up a sanctuary at CrossWalk Community Church in Napa, the only shelter facility that would allow evacuees to stay with their pets.

Nothing remains of Brenda Burke's home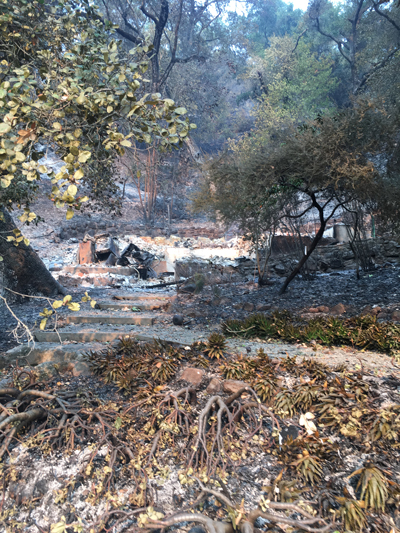 Current state of mind
Ironically, my 3-year tenure with JARR made it easier to survive and accept my plight. We had previously seen immense devastation and loss with Lake County fires where JARR took an active role in animal rescue. Today, I live what can only be termed an unorthodox existence—operating on cruise control, in a surreal, dream-like state, disconnected from home, past, possessions and home-life stability. I can tell that even Hanzel is in a state of confusion—waiting to go home. Reminders of the event come and go, and small things will set off my emotions such as—attempting to replace a few clothes or seeing a blouse at Target that would go so well with that skirt that I no longer possess.

Going forward
It's been overwhelming, and living on the other side, being in need, has been a humbling experience. I've been blown away by the unimaginable support I've received from friends and acquaintances. So, I have no major fears other than finding a place to live. I have a job. I have donations. I have the love and support of family and friends. And I don't need much. Bit-by-bit, I'll rebuild my life, and in a strange way that's an exciting prospect. I have every confidence that I'll make it.
Will anything good come out of this? I'll spend more time with close friends and family, because what the calamity has taught me is that what really matters is relationships—that it's not always about the work—it's about the living. I've also learned that you don't need much to be happy. It can all be gone the next day. To that point, I had spent that very weekend redecorating the house with new rugs and furniture. I was so proud of my new surroundings, sitting on my new couch with Hanzel. Later that very night, it was all gone. Poof!

How can we help?
Ultimately, this is a story of personal tragedy—not just a matter of statistic's (6000 buildings lost), but one that affects flesh-and-blood victims. This will become increasingly important as the Great Wine Fires of 2017 recede from the headlines and memories fade. That's when the victims will most need our help.
You can help Brenda at https://www.gofundme.com/4kfca80