Upcoming Events with The Luxury Marketing Council of San Francisco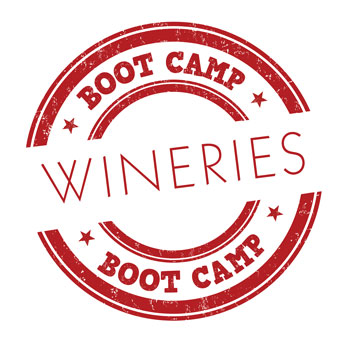 The 2018 Wineries Boot Camp

Wednesday February 28th 2018
9.00 AM – 1.30 PM
Lincoln Theater, Yountville

The Luxury Marketing Council of San Francisco is proud to present its 6th Annual Wineries Boot Camp. More than 300 marketing, sales and hospitality managers and operating staff, representing 75+ Napa and Sonoma wineries will be in attendance. The Boot Camp provides a networking and corridor-talk environment that remains unrivaled, and compelling program content to address today's business environment.
PROGRAM DETAILS:
Capture More Tasting Room $ales: Trap That Elusive Tourist with Data Metrics and Geo-Fencing
With intense competition, and an increasingly impulse-driven visitor, tasting rooms are failing to trap their fair share of wandering tourists who visit wine country without a planned itinerary for their tasting room experiences. Being able to quickly review your most important business metrics over time is important. Understanding how your metrics compare with other wineries like yours is critical.
Featuring:
John Keleher

, Founder, Community Benchmark which uses proprietary algorithms to measure the relative success of tasting rooms within a geographic area, and, through a private website, anonymously shares personalized, actionable metrics for each winery's benefit. In this way, individual wineries discover new growth opportunities to increase sales.

Alf Nucifora

, Chairman, The Luxury Marketing Council of San Francisco who will reveal the results of a recent geo-fencing market test involving 21 winery tasting rooms located in the Route 29-Silverado Trail Corridor.
Opening the Door to Retail and Restaurant Chains

A panel comprised of wine buyers for major chains, (premium and mass), spills the beans on how small-production wineries can secure placement – in-store and on wine lists.
Featuring:
Brian Bennett

, Founding Partner, Paul Martin's American Grill

Mark Crisler

, Founder & CEO, Trellis Wine Group

Marian Jansen op de Haar

, Founder, Vines 57 and Consulting Buyer, Flemings Steakhouse

Clarice Turner

, CEO, Boudin SF Bakeries & Restaurants

Selling to the High Net Worth Individual (HNWI)

David Friedman, Co-Founder of WealthQuotient, the leading training and strategy platform for sales professionals, tells how to engage the ultra-wealthy through relationship cultivation and bespoke engagement.

Sensory Perception & The Winery Experience

Data entering the mind from smell, taste, touch and hearing often arrives subconsciously and can matter just as much as what our vision tells us. Blind since birth, sensory expert Dr. Hoby Wedler PHD, with clients in the food and beverage industries, provides sensory insight into the design and marketing of products and experiences. His Mystery Shopping feedback on Napa and Sonoma tasting rooms and winery experiences are, pardon the pun, an eye-opener.

Planning for the Unplanned Crisis

If the recent Great Wine Fires taught us anything, it's how ill-prepared the wine industry is for major calamity. But history will repeat. A panel of experts discusses how wineries should plan for catastrophe—communications strategies, staff mobilization, handling lost business, and procedures and protocols for business rebuilding.
Featuring:
Gary Kimball

, President, Kimball Hughes Public Relations

Jen Locke

, SVP-Direct to Consumer, Treasury Wine Estates

Leigh Oshirak

, Former SVP Brand Marketing, PR, Social Media, Williams-Sonoma, Inc.

Lisa Poppen

, Vice President, Marketing & Communications, Visit Napa Valley

Eric Savitz

, Partner, Brunswick Group
The 2018 Rising Wine Stars Awards
The Rising Wines Stars awards acknowledge wine industry practitioners who epitomize the new generation changing the face of the wine industry in California. (See last year's recipients here)
Awards Include:
Winery of the Year:

(Based on brand distinction and rising industry buzz)

Winemaker of the Year:

(An up-and- coming winemaker making a fresh impact)

Wine Marketer of the Year:

(For new ideas and innovative thinking in wine industry marketing)

The Wine Community Service Award:

(A wine industry organization or supporter rising to the challenge)

The Winery Hospitality & Guest Relations Award:

(A winery or winery staff-member who is setting a new standard)
Bonus, Complimentary Gift
Complimentary Vinous maps generously provided by AXR Winery
Every registered attendee receives a stunning Vinous Napa Valley Vineyard Map ($35 value). Created through extensive proprietary research and boots-on-the-ground work, the maps represent the state-of-the-art in modern cartography. Each map shows property boundaries on the front and more detailed information on the back, including historical background for each region and 3-D images that allow for unprecedented perspective of vineyard sites. Choose one of the following AVA's when you register for attendance: St. Helena, Yountville, Howell Mountain, Stags' Leap, Rutherford, Oakville or Pritchard Hill.
RSVP Information:
This event is open to all interested parties
Admission fee: $70 per person
For 3 or more attendees from the same winery, company or organization, an additional 10% discount per attendee will apply
Admission fee includes attendance at all program sessions, coffee, pastries and refreshments, Eventbrite registration fees…and complimentary Vinous Napa Valley Vineyard Map
Current admission fee is valid until January 12th 2018, at which time the admission fee will increase to $70 *Program content is subject to change

To reserve your seat click the RSVP button or call 415.332.1085
Thank You to Our Event Sponsors:
We are in the process of finalizing details for additional 2018 events, including…
March 21st:

Digital Trends

August 16th, 2018:

Alpha Agents Real Estate Boot Camp
Frequently Asked Questions
Is there an admission fee for Luxury Marketing Council events?
With the exception of a small number of programs (e.g., Annual Boot Camps), there is no admission fee for Council members.
Can Council members bring a guest (s)?
Yes they can, but please note that on occasion, (e.g., high demand events) a nominal admission fee will be applied for quests who are not a members of the Council.
How many events does The Luxury Marketing Council conduct annually?
The Council conducts 25 + events annually in the form of standard monthly programs (75-150 in attendance), intimate industry roundtables (10-15 in attendance) and annual Boot Camps (300 + in attendance)
What is the format for Council meetings and events?
Meetings and events are traditionally held in the evening (Tuesday, Wednesday and Thursday) from 6.00-8.00 PM. The first hour is devoted to socializing and networking accompanied by fine wines and small bites. The second hour is devoted to business presentations, panel discussions, information sharing, roundtables, etc.
Luncheon meetings, traditionally industry roundtables, are also held from 12.00-2.00 PM.
The Council recognizes that time is a precious commodity. Therefore all events start and end on time with strict adherence to time management and meeting discipline.
How am I advised about forthcoming events?
All Council events are promoted and advertised to the Council's member database via HTML email announcements that are normally sent 3 weeks prior to the event. Announcements and invitations for each event are sent three times (Save the Date + two reminders). A final reminder message including parking details is sent 48 hours prior to the event to all confirmed parties.
What is the RSVP procedure?
RSVP's for all Council events are received and processed through Eventbrite. Those wishing to attend an event simply click on the "To RSVP" button featured in the HTML announcement/invitation. That will automatically bring up the Eventbrite registration page.
Are there any event rules and requirements that I should be aware of?
Every attendee (Council members and their guests) must be pre-registered on Eventbrite
Unregistered, walk-in attendees may be refused admission given that most Council events are sold-out in advance
Guests must be accompanied by the Council member who issued them the invitation
While we realize that some cancellations are unavoidable because of emergency situations or late-minute business demands, we ask for the courtesy of a minimum 48 hour notice of cancellation so that cancelled seating can be reassigned to waiting listees and adjustments can be made to costly catering orders
Dress code is business or business casual