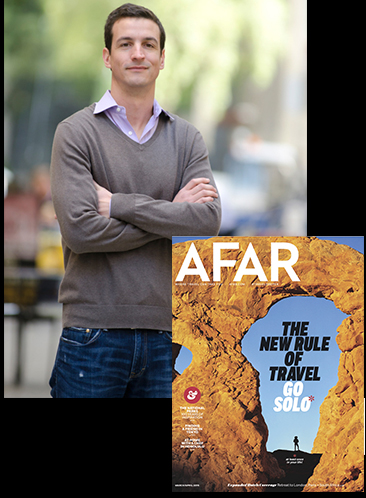 The Joe Diaz Files

A Revealing Conversation with the Co-Founder of AFAR Magazine about Unique Places and Uncommon Experiences
Monday June 12th, 5.00-8.00 PM
The Luxury Marketing Council of San Francisco is delighted to engage in conversation with Joe Diaz, Co-Founder and Chief Product Officer of AFAR, the multi-platform travel media brand that inspires and guides those who travel the world to connect with its people, experience their cultures, and understand their perspectives. Its platforms include the award-winning AFAR magazine; AFAR.com, recently named a Top 10 site That Makes Travel Easier; the non-profit foundation Learning AFAR; and immersive travel series AFAR Experiences.
In this compelling interview and conversation, Joe discusses the latest trends in world-wide travel, reveals his favorite "secret" experiences and spots gleaned from many years and thousands of miles of international travel, and answers audience questions about what's new, what's hot, where to go and the best way to get there.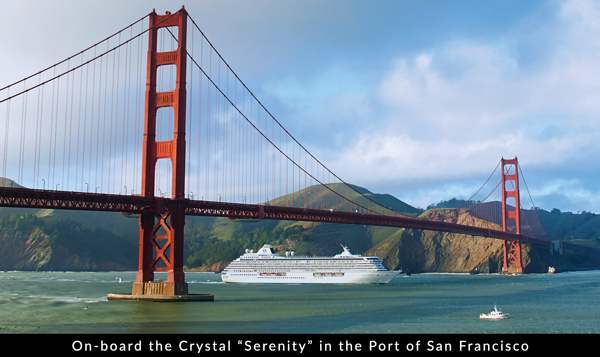 Joe Diaz is the Chief Product Officer and Co-Founder of AFAR Media. Founded by Diaz and Co-Founder Greg Sullivan in 2009, AFAR is the leading media company exclusively dedicated to experiential travel. AFAR inspires, enables, and guides discerning travelers through its flagship magazine, AFAR, it's digital platform, AFAR.com, as well as its other platforms: Learning AFAR, AFAR Experiences, AFAR Journeys and AFAR Conversations.
PROGRAM:
5:00pm – 6:30pm: Check-in at James R. Herman Cruise Terminal, Pier 27
5:00pm – 7:00pm: Networking, Light Refreshments (cocktails & canapes) in Palm Court
7:00pm – 8:00pm: Conversation with Joe Diaz in the Hollywood Theatre
NOTE: Ship embarkation ends at 6:30 PM. No guests can be admitted after 6:30.
 LOCATION:
On-board the Crystal Serenity docked at the James R. Herman Cruise Terminal located at Pier 27 at the Embarcadero and Sansome.
SPECIAL EMBARKATION PROCEDURE:
TSA requires proof-of-citizenship and ID information (via Driver's License or Passport) which must be provided at time of event registration on Eventbrite.
PRESENTING SPONSOR:
TO RSVP:
This program is presented without charge to dues-paying members of The Luxury Marketing Council and their confirmed guests
Attendance is by invitation only and is subject to a confirmed reservation
All RSVP's must be accompanied by proof-of-citizenship and ID information
Attendance is strictly limited to the first 100 confirmed RSVP's
NOTE: RESERVATIONS FOR THIS EVENT WILL ONLY BE ACCEPTED UP UNTIL MAY 31st
Frequently Asked Questions
Is there an admission fee for Luxury Marketing Council events?
With the exception of a small number of programs (e.g., Annual Boot Camps), there is no admission fee for Council members.
Can Council members bring a guest (s)?
Yes they can, but please note that on occasion, (e.g., high demand events) a nominal admission fee will be applied for quests who are not a members of the Council.
How many events does The Luxury Marketing Council conduct annually?
The Council conducts 25 + events annually in the form of standard monthly programs (75-150 in attendance), intimate industry roundtables (10-15 in attendance) and annual Boot Camps (300 + in attendance)
What is the format for Council meetings and events?
Meetings and events are traditionally held in the evening (Tuesday, Wednesday and Thursday) from 6.00-8.00 PM. The first hour is devoted to socializing and networking accompanied by fine wines and small bites. The second hour is devoted to business presentations, panel discussions, information sharing, roundtables, etc.
Luncheon meetings, traditionally industry roundtables, are also held from 12.00-2.00 PM.
The Council recognizes that time is a precious commodity. Therefore all events start and end on time with strict adherence to time management and meeting discipline.
How am I advised about forthcoming events?
All Council events are promoted and advertised to the Council's member database via HTML email announcements that are normally sent 3 weeks prior to the event. Announcements and invitations for each event are sent three times (Save the Date + two reminders). A final reminder message including parking details is sent 48 hours prior to the event to all confirmed parties.
What is the RSVP procedure?
RSVP's for all Council events are received and processed through Eventbrite. Those wishing to attend an event simply click on the "To RSVP" button featured in the HTML announcement/invitation. That will automatically bring up the Eventbrite registration page.
Are there any event rules and requirements that I should be aware of?
Every attendee (Council members and their guests) must be pre-registered on Eventbrite
Unregistered, walk-in attendees may be refused admission given that most Council events are sold-out in advance
Guests must be accompanied by the Council member who issued them the invitation
While we realize that some cancellations are unavoidable because of emergency situations or  late-minute business demands, we ask for the courtesy of a minimum 48 hour notice of cancellation so that cancelled seating can be reassigned to waiting listees and adjustments can be made to costly catering orders
Dress code is business or business casual