Jeff Schlarb
There is no more pleasant pastime than witnessing success in-the-making. From modest beginnings in the staging business, this enterprising and eminently-personable designer is capturing escalating attention as his work draws acclaim and his name becomes a fixture in the pantheon of the Bay Area's designer elite. Entrepreneur, prolific podcaster, aspirational musician, cool dad and committed family man who lapses into a blissful reverie at the mention of the loves of his life, his two pre-teen daughters, Jeff Schlarb works hard at his craft, almost to the point of borderline obsession. Multiple Designer Showcases put him on the map and helped establish a buzz that continues to generate interest in the man, the designer and his work.
On origins and beginnings
I'm from a little town northeast of Kansas City, Missouri. Most of my time was spent on an idyllic 10-acre plot with a treehouse, farmland of 2,000 or more acres behind me, and room to roam. I attended Missouri State where I graduated with a B.A. in Creative Advertising. Initially, I chose the university because of the surrounding mountain biking and hiking. But, I snagged a Business degree in the process. After graduation, I toured Europe for a year — wandering around Belgium, learning ceramics and taking European Studies courses, followed by a stint in London where I worked in a pub and a bike shop.
It's fascinating how life works. When I arrived in London I was flipping through "flats for rent" ads. So, I called up Jo (the name in one of the ads) and said, "Jo, I am definitely your Funky Bunkie. When can we meet?" We hit it off. I got the place. And then I met a friend of a flat-mate's friend — who happened to be my now ex-wife, Tray. Had I not been in a good mood that day when I made that phone call, had I not caught Jo at home and gone on to the next ad, I wouldn't have met Tray. I might not be in San Francisco. I probably would not be an interior designer. Crazy!
On his circuitous career path
While I was at college, I was recruited to sell educational books and CD ROMs door-to-door, 80 hours a week on 100% commission. I ended up doing that for five summers and learned important life skills – perseverance, how to balance a work ethic, developing a positive attitude, and making a good first impression. Call it my basic training. And I made good money too, learning a fundamental business principle in the process — it's not how much you make — it's how much you save, or as I apply the lesson today — how much you invest. I went from making $5,800 in my first summer to $25,000 in my final year.
I ended up in San Francisco—it had a European feel that I loved and it's where my ex-wife and I dated and married before deciding to build our life together. San Francisco was, in essence, our laboratory on life. After a meandering through a succession of corporate jobs, primarily sales-related, we made the transition to interior design. Tray, my ex-wife, had been formally schooled in design in her home town, Cape Town South Africa, so she was the instigator of the move. I tagged along as the business brain. Our first project involved staging and styling a home in West Portal –we lost money on the job – but learned an early and valuable lesson – make sure to get higher bids!
On the growing Schlarb empire
The Jeff Schlarb Design Studio specializes in interior design. I describe our style as contemporary classic with layers of more detailed transitional design. It's cleaned-up classic interiors – nice and neat – with a forever appearance. But the emphasis is on artistic shapes in the room – chair frames, for example.
Green Couch does real estate staging – improvements for homes that go up for sale, as well as staging for events. The Green Coach style mirrors what we do in our design studio — transitional to contemporary classic. We handle approximately 200 staging assignments each year that run the price gamut from $2,000 to $250,000. All told, we hold inventory at any one time of 140,000 square feet of decorable space — a couple of million dollars in value.
The staging business caught fire quickly because we were completely different from everybody else. Competitive staging used to be very traditional — it was meant to emulate wealth, but it was never really comprised of classic style or fine antiques. It just looked kitschy. So, we came on the scene with modern sofas, big artwork, a lot of plant life — no one was doing that. And that's why we took off.
On the Schlarb aesthetic
I describe my style as "rad elegance". By that I mean, we have the capacity to rethink the past and the present and modernize them. We have the capacity to be more artistic because I don't have the classic learning curve and its accompanying restraints to hold me back. Ultimately, I aspire to produce work that is elegant and timeless.
We completed a project recently in Palo Alto. The home held an art collection that you could only describe as "wild". The home's design was a lesson in contradictions – contemporary footprint, but offset with silk wallpaper. A refined all-white house, but with soft grays. Whatever occupies space in front of the walls, furniture for example, is half the view, so our furniture had to be somewhat wild as well, because the artwork has a voice. It was screaming the loudest in the room. Some of our furniture pieces had to compete – hence an ostrich feather lamp.
A writer once described our work as "curiosity without the chaos". Curiosity is when you look at a men's suit and closely inspect the actual stitching, you see that the buttonholes are all operable, and of a different thread. There are places where the artisanal touch pops out. You get curious to experience a revelation. And, I want my interiors to generate the same reaction — to have the "Ahhh" factor. I can't abide a living environment that is "flat" – that lacks inspiration or drama.
On challenges confronted and surprises savored
Our biggest challenge was in 2008-2009 trying to cope with the recession and topsy-turvy marketplace. I could pay the bills, and I didn't fire anybody, but the business wasn't thriving. One of our survival strategies was to build and manage our design studio according to a disciplined business plan and not solely as an artistic endeavor. We're done with sporadic design projects and feeding off staging work which fluctuates in unison with the volatile Bay Area real estate market.
A house I did in 2011 was more a psychological experiment than a design job. I created two rooms that were identical in form and furniture. The only things I changed were fabric and paint colors – silvers and blues in one; glow-in-the-dark burgundy walls and chocolate floor in the other. The beauty was that people couldn't argue about "style", furniture or patterns. They could only argue color. That was our first Designer Showcase and it put us on the map. We named it "Two Sides to Every Story."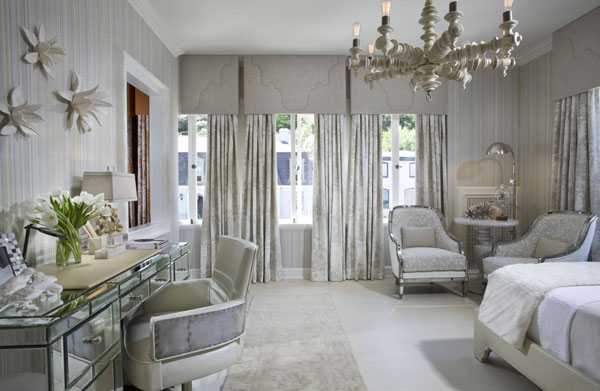 On his motivation, inspiration and philosophy of life
My inspiration to become a designer originated with my ex-wife, Tray. She was the one who broached the issue of working as business partners. I was skeptical at first. I believed that you "Don't make honey where you make money." But I was wrong. We were great together. For eight years, we were both all in, a lot of 12 – 15-hour days. We had different responsibilities, so the three or four hours we would run across each other during the day really made up for not seeing each other until late at night. For us, it really worked – until the kids came along.
It took a couple of years before I finally realized that I had instinctive creative chops. People would immediately ask me for design advice rather than business feedback. It was an evolving process and I had initial doubts because I hadn't done it before. I'd say, "Does this look good? Tell me." Eventually, Tray and I were collaborating. It was like, "This doesn't look good. We need to do this. Okay, that's better." Clearly there was a collaboration. But the inspiration to become a designer was 100% at Tray's instigation and the result of her encouragement.
On the seminal moments in his life
This is a seminal period for us right now on every front. Our confidence level is up because the work continues to get better; we're hitting stride with our design studio; we're getting published and featured in prominent places; and our staging business is a juggernaut. It's all coming together, and we're humming on all cylinders.
I want my obit to read, "He was a celebrated designer whose only aspiration was to make other people's dreams happen." And I'd like it to add, "He and his team made a meaningful impact on their community and the people they touched". How about that?
On his idea of bliss
One the design side, it's when the client loves it. And when it gets installed — when the sofa is being placed, the lamps are being unwrapped, the light fixture is being hung, the rug is rolled out and it's all coming together — I am over the moon. It's crazy pleasurable. Outside of work, it's when we're at our home in Healdsburg, we're in the hammock, playing bocce ball and cooking. And there are 13 people over for a meal, we've done a rack of lamb, the wine is sumptuous, and the kids are running around — that is the ultimate bliss.