Pamela Babey
BAMO
Considered by clients and peers as a commanding presence in architectural design and one whose artistry redefines the term 'visionary", Pamela Babey speaks softly, but carries a big and impressive body of work. With parental direction that led her to appreciate beauty in its every form, and a work history guided by architectural and design maestros who encouraged and allowed her talent to blossom, this lover of light, color, Fortuny fabric and all things Venetian, not to mention, tasteful and sentimental bric-a-brac, has established a reputation that attracts aficionados of great taste and awe-inspiring design, be they individual or corporate.
On the early years
I was born in Brooklyn with a physician father and a medical technologist mother. My father wanted to go somewhere where doctors were really needed so we ended up in Las Cruces, NM, with a then population of 12,000. From age five until my college years at UC Berkeley, that's where I spent my formative years.
On a career in design
My first job was with Skidmore, Owings & Merrill (SOM) in New York. I was always poking around. The interior design group was on another floor, so I would hang out there when I had time, watching them doing space planning. It's important to realize that you will hear a lot going on around you if you don't have earbuds on.
I decided I had to get into interiors, so I went to work for James Stewart Polshek & Partners, also in New York. That experience was interesting because the Polshek style was eclectic– very different than the disciplined SOM style. Then I returned to SOM, this time working for Charlie Pfister in the San Francisco office. That's when I was introduced to hotel design, working on the Kapalua project in Maui, and a Sun Valley hotel. I followed that up with a return stint in NYC, and a brief stint in Paris where I helped design Simon & Schuster's new headquarters. Upon return to San Francisco, I joined KMD Architects, designing hospitals, jails and a law firm office. I had one more return to SOM in New York as an Associate in their interior design group, working on major corporate headquarters for Irving Trust and Georgia Pacific. Charlie Pfister left SOM and asked me to join him at his new firm in San Francisco, which I happily did, and that's where I stayed for nine years until he passed away.
On becoming BAMO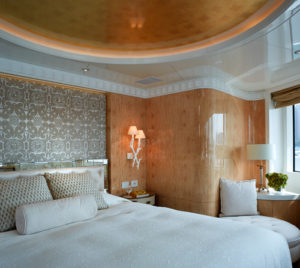 David Moulton, Michael Booth, Gerry Jue and I had all worked at Pfister, so when Charlie, who was the sole owner, passed away we naturally opened our own office. We began with the Four Seasons in Milan, a Pfister client who asked us to continue designing the project. Nan McEvoy was another early client, whom we enjoye
d for many years. There were only the four of us at the beginning and it was only when we were able to start hiring that I knew that we would make it. Today, we're a staff of45, including 13 architects and a team of designers and support staff. We don't do architecture from the ground up. We design inside of the box–walls, doors, finishes and lighting, then furniture.
We picked up the Four Seasons in Bora Bora, partly as a result of the Milan experience. We won the Villa Feltrinelli in Italy because the client had worked with us on the Four Seasons Milan. We were selected for a prestigious residential compound in Beijing, because of a referral from a client in Hong Kong. We've completed three homes on the Peak in Hong Kong all for the same client who also had us decorate his 55 meter luxury super yacht and private jet. And we had Abu Dhabi royalty call us to design a villa based on work they had seen on the internet.
On the influences that made an impact
SOM taught me about looking at the shapes of spaces and organizing them-adjacencies, how they work, how they function, how you move in and out of a building. I realized what can be special when designing a hotel is that you are designing everything-there's a consistent thread to the design of the entire project. At SOM we did the graphics; we designed and printed the fabrics; we made the furniture with John & Elinor McGuire. It's what European architects do, they design the buildings, the interiors, everything. That was the ideal.
The success of our hotel work, maybe because we're all residentially-sensitive–brings the feeling of a home into the hotel design. Our hotel work has made us think about important design issues such as, "How do you turn the lights off when you get in bed? Where do you put your bathrobe when you take a shower? How do you light your shower? How do you light your face for makeup? And how do you make someone look good in a living room?" You're accentuating things, creating contrast and a space that's lively. That's what people enjoy.
Charlie Pfister was a remarkable mentor because he taught me how to be simple about interiors, and he definitely taught me how to enjoy things. Have a nice glass of champagne, relax. Tony Duquette, the LA Designer, was another major influence in my life. If you see his work, it's "full speed ahead"! If you're going to put one pair of antlers on the wall and paint them green, you might as well put two dozen. He used colors that were almost hysterical, and most of his interiors were very open-space, with lots of windows.
On the Babey style
I like to think of every project as a Carta Bianca (blank page). The process begins by listening to and getting to know the owner. Only then am I able to create a personal space that reflects their unique personality. I also take great joy in encouraging the artisan so that I can layer unique pieces made with passion and care. Everything from rich plaster walls to a trim on a cushion. It starts with a blank page and then incorporates the psyche of the client.
I always try to make the home warm and inviting. It's all about living with things that you enjoy. I hate those picture rooms that look like they belong in a museum. The residence must feel like a home. It should be under-designed, not over-decorated. I want pieces that are memorable, things that I like, things that the client likes. But they don't have to be valuable; they can come from Target!
Once a client showed me an auction catalogue and he said, "I'm thinking of buying these." They were pearls of a color I had never seen before. I said, "Oh, that's the color for the plaster I want for the yacht's staircase." The entire stairway became this plaster spiral; we shaded the color from bottom to top. It's darker down at the bottom with cool guest cabins. Then as you go up to the top deck — the outdoors — it becomes very pale. It's the opposite of what most people would do. They'd want to bring light down to the bottom. But I thought, "you're down by the water level", and because the rooms are upholstered, it's mysterious and quiet.
On her love affair with Fortuny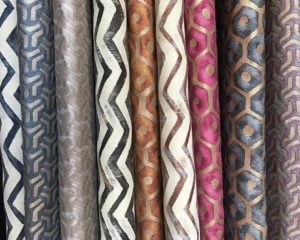 I fell in love with Fortuny because of its understated elegance. It's chicly casual. It's a special cotton, painted in many layers. And because of its fresh colors, it's a perfect for California–casually elegant and perfectly practical. It's expensive, but I wouldn't make a client buy anything I wouldn't buy. That's why my bedroom is upholstered in Fortuny. When I get up and the sun is coming up, my room has a glow that's reminiscent of Venetian sunlight.
International travel is an imperative. It opens your eyes to different ways of life, different experiences and different aesthetics. For example, there is a different way of designing a restaurant in Paris. The chairs are lower, the table is lower and smaller. As a result, it makes the room taller. It makes the diner feel important when they're eating. You bring that kind of sensitivity back with you.
On memorable experiences
The Japanese Pavilion at Biennale in 2015 stands out in my mind. There were thousands of keys hung on red strings from the ceiling of the pavilion at different heights, and underneath it was an old Venetian boat, very rusty, roughly painted. You entered this red fog, and as you walked around you began to see the boat appear. It gave me goosebumps. It was like the fog in San Francisco when it's just floating on the water and Alcatraz is sticking out.
I love Venice. You have to walk most of the time and there are always new places to explore and new corners to find. It makes my heart sing. One night I was there in the winter. It was cold and crisp, and as I was walking across the Accademia Bridge, along comes a barge with a piano player and an opera singer. That's what Venice is really all about—not the tourism and the gondola singing. You go down the canal in the evening and you can look in all the windows. Just like San Francisco, people don't close their drapery.